Technology Support With
a
Human Touch
Mustard IT is a boutique London IT support company that prides
itself on its personal approach to customer service.
Rapid Response Times
Short Contracts
IT Projects & Ongoing Support
Impeccable Client Service
Cloud Specialists
Get Your Free Consultation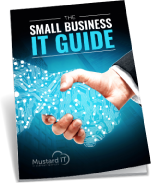 FREE EBOOK - The Small Business IT Guide
Download
Our Clients:




Leading IT Support
London Companies
Can Turn To.
The Mustard IT support team delivers exceptional service, so you can focus on running your business. We believe a healthy, functional IT system is the backbone of a growing company, and we work hard to deliver the IT support London companies need.
As an award-winning IT support provider, we offer a range of support packages that can be tailored to meet your business needs, including cyber security solutions, consultancy services, network security, support engineers and a range of professional services.
Get Your Free Consultation
Our IT Support London
Services
Here are some of the ways we can support your IT needs:
What Our
Clients Say
Our relationship with Mustard works well because they have an intimate working knowledge of our systems, overseeing every aspect of our IT from printing problems right through to bespoke accounting applications. I have never seen Alex lose his cool – even when faced with the most trivial of user requests!

Mustard IT offers a personal and simple approach to IT support. We can only recommend their installation services to any business looking for an IT support London service. They provided us with a hassle-free and cost-effective support service which suited our requirements perfectly.

Mustard IT has saved me so much time, spear-heading this project for us and liaising directly with our American office and third-party suppliers, such as ISPs, to ensure that no stone is left unturned. They are a great bunch of guys – always on hand to assist with their knowledge and expertise – and I would have no hesitation in recommending their IT support services.

At Regus, we have our own internal IT resources but we sometimes call on the help of outside consultants like Mustard where specialist knowledge or a wider pool of experience is required. The team at Mustard are professional, knowledgeable and have been a pleasure to work with.

It's always beneficial to keep up with the ever-changing technologies in the business world and Mustard IT have made the whole transition of our old email system to cloud email smooth and simple. They are a helpful and reliable company to deal with and we highly recommend their IT support services to any other London company.

A big thank you to the Mustard IT team for the continued fast and efficient IT consultancy services they provide for us. Their engineers are extremely knowledgeable and helpful ensuring the problems are solved quickly and with minimum disruption.

Mustard's IT support is first class. They look after all of our IT requirements as part of our support services tailored package and we couldn't ask for a better service provider. For any company wishing to engage with reliable IT support in London, we can't recommend Mustard IT enough.
About

Us
Our customer-friendly pricing is based on the number of users, not the device. This means users can operate multiple devices, providing a cost-effective and award-winning IT support partner for our customers.
We provide full IT management. This means if you have any problems - for example, an internet connectivity issue - we work to resolve it for you without you ever needing to deal with third parties.
We operate on three-month contracts, since we feel fully confident we can win your business again and again by delivering an exceptional managed IT support service.
Our engineers explain complex matters in simple English, allowing you to always understand any technical issues affecting your business. You can leave your technology challenges to them.
Discover More