It doesn't matter how disciplined you are, it is inevitable that at some point you have done some internet browsing or shopping on a work laptop or maybe even managed some of your private banking transactions or social media feeds. Most people keep a personal folder even if it just relates to details of their employment, things like changes of hours, salary reviews, or promotions.
Laptops also store a lot of private data about their users including passwords and payment details and keep a record of every website visited. It's just so easy to look something up or check information on your work laptop rather than switching to your own personal device.  Some employers install monitoring software to keep an eye on what you are doing but this should be referred to in the company's terms and conditions of your contract of employment.
Security specialists always maintain that the weakest link in any organisations' strategy is their employees.  Receiving a staff laptop back for recirculation to another employee can raise a whole host of unwanted security issues and so most IT departments will wipe a laptop that has come back from one employee before they issue it to another.  There may be things you want to keep or you don't want other people to see so doing a partial or entire cleanse of your device plus saving any key information should always be something you consider if you are moving on to a new job.
Cleaning a laptop
A new laptop might be coming your way because you are due an upgrade or perhaps you are leaving for a new company and have to hand back all your electronic equipment.
Before you clean the laptop, it is important to remove any information you may need to keep and to delete any personal information.  Many IT departments will encourage employees to do this and can advise you on the best form of data cleansing.
Back up anything you need to keep
Back up anything you want to keep, this could be a project you've worked on or research you have conducted which will be useful in your new role.  Your company may have strict rules embedded in your contract of employment about harvesting data that contains client information, for instance, so do check first.  Back up can be to a hard drive, USB or the cloud.  Your employer may have rules about which one you use; some companies forbid the use of portable USB devices.
To wipe or not to wipe
Some organisations prefer not to have laptop's wiped completely before they are returned because then the whole thing has to be reconfigured and set up again before it can be used by someone else.  If this is the case, it may be possible to scrub your personal data without doing a full clean.
       

Look for personal files to delete where you may have saved images or videos

       

Delete any programmes you have installed that are personal and not related to business

       

Clear saved passwords, data searches and all your download history from the web browser
Wiping the hard drive on a laptop
If you are using Windows then how you do this will depend on which version of Windows is on there.  Windows 8 has a 'Remove everything' option via 'Start' then 'Settings' and then choose 'Change PC settings'.
Windows 10 is quick and easy, just type the phrase 'Reset PC' into the search bar in the bottom right corner of the screen and select this option when it comes up.  Windows 10 will go through the process step by step.  If you want to cleanse the laptop completely then you need to pick 'Remove everything' for a full wipe but make sure you backed up all the data you want to keep first.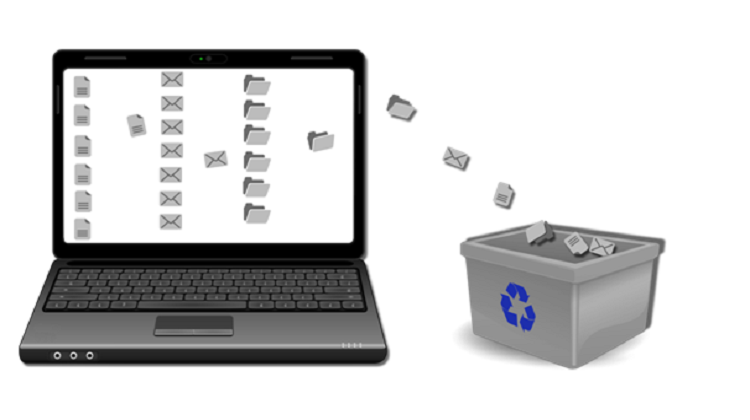 Macs' can be wiped via the function called 'Disk Utility' which allows you to clean the Mac's primary drive via the Erase function.
Chromebook can be wiped by selecting the 'Powerwash' option in Settings.
There is lots of information online and on YouTube which can walk you through the process step by step if you are unsure.  
Always check with your employer's IT department first because they may prefer you not to do a full wipe.
Physical cleaning
With the best will in the world, laptops can get dirty particularly if they are used at home so it is nice to give the device a physical clean before it is returned and in these days of Covid, essential.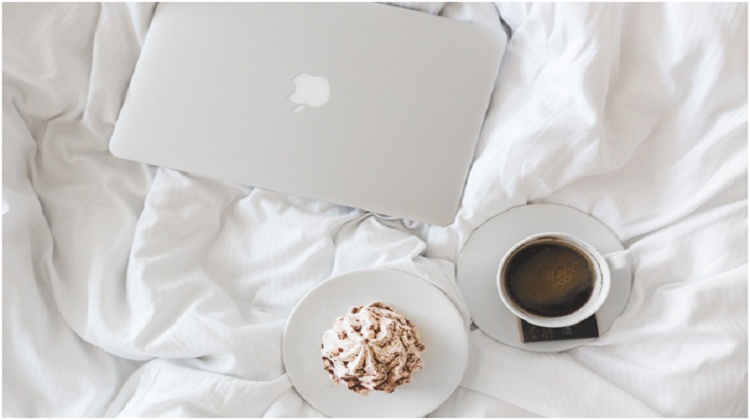 Remove dust and tiny particles using a microfibre cloth – there are mini compressed air cleaners which can gently work between the keys on the keyboard which are a great trap for small amounts of debris.
Use proprietary hygienic wipes to clean the machine all over before you give it back.
About Mustard IT, your technology partner
Mustard IT is a trusted team, experienced with the latest technology and able to explain complex issues to you in a language you'll understand. Contact us today to find out how we can help you.