So you have made the choice to go with buying a new business laptop and not a desktop PC. An astounding array of competent and convenient laptops for small business use vied for attention during 2016. This article will put forward 5 brand suggestions for contender to the top spot but first it's important to look at what your small business requires from a laptop. As work environments change, the necessity for work spaces to be mobile is on the increase. The more mobile your staff needs to be will effect the laptop chosen. Every business is unique and really understanding what you are ultimately looking for in this piece of vital hardware will affect your decision making process dramatically. How will this laptop need to support the employee attached to it? What are you asking of it? Does it need to be cost effective and high functioning? Easy to use? Hardy? Is power a key factor? Do you need a particularly long battery life? There are so many choices, you might feel overwhelmed. Let's take a look at the criteria you should investigate when making an informed purchase decision.
The Criteria for Choosing the Right Laptop for Your Business Needs
Setting your budget: You must make a clear decision about what you can afford to spend or are wiling to spend on a new laptop. Sometimes the top of the range laptop will come with a premium price tag. If you only need to do the most basic tasks like creating documents, emailing and browsing the web you can easily get your needs covered for under £300. The next ladder on the cost rung might see you forking out around £500 which will buy you a basic processor with a low resolution screen and not a lot of SSD storage. These options can also be bulky and heavy which is not ideal if staff need to be constantly on the move. Top of the range kicks in at £800 and above boasting loads of RAM, massive amounts of storage and brilliant display and obviously an amazingly fast processor.
What is your ideal screen size? If you go for a smaller screen size it often means that the laptop is more portable for your more mobile staffers. The downside is that smaller does also mean less space for specific features like ports. Screen sizes range from 11 inches to 17 inches. If you're looking at a 17-Inch screen it's not going anywhere –its more a replacement for your current desktop computer but with a very large keyboard, an optical drive perhaps and loads of connectivity. You might want to aim for the middle ground here with a 13-inch screen that is still portable but offers a wider range of features. Other screen considerations include preferences for Matt finishes, touchscreen functionality and full HD resolution.
How much storage do you require? This obviously depends on your specific business needs. You want as much as you can possibly get. These days with cloud storage options, laptop storage is not so essential as long as you have a reliable internet connection. If your business requires you to store huge amounts of data like video footage you are going to need at least 1 -2 TB of space. Of course you can also make use of USB drives and external hard drives for all your business storage needs. An absolute minimum is 4GB.
Choosing the right processor: For entry level laptops you are looking at a corei3 while the latest 6th generation Intel Core i7 chip is the top of the range and obviously more expensive. A Core i5 sits somewhere in the middle. These days, unless you are running demanding gaming software you don't need a top-spec processor. When looking through options avoid any laptops with the word "Atom". They are only used for netbooks and will not be up to any business tasks. It's a slow system.
Battery life considerations: At a minimum your battery power should last you through the entire work day.
The case for portability – ultraportable laptops or Ultrabooks: Making this choice is often linked to a mobile need. You're out and about so you want hardware that is light but also durable. You are probably also going to be away from the mains for a while so you want a powerful, long lasting battery. Often the thin, light laptops tend to have shorter runtimes except for laptops like the MacBook Air. With newer models, the processor will not use up so much power. Bear in mind that thin laptops also have shallow key travel so if you need to be doing a lot of typing this might end up not being the best option for you.
Warranty and after sales service: Different companies offer vastly different warranties on their laptops. Look at what you are going to be spending and what they are offering you. The warranty can look good on paper but do they carry out what they say? You also want to make sure that the company which you buy your laptop from has a UK-based support line and good after-sales service. Read user reviews to gauge their efforts in this regard.
Security features: This is a key consideration when you're buying a laptop for business use as you need to ensure that all work data is secure. It needs to come with excellent security capabilities.
Hybrids options –Part laptop, part tablet: Even though tablets are everywhere these days sometimes you just need to have a big screen and a keyboard to get your work done. These days you will find the Hybrid option that's both laptop and tablet. There is a selection of laptops that are convertible with a touchscreen that can be folded in behind the keyboard. (Yoga 710 or options from Lenovo).
It also is good to keep your eye out for laptops that have won awards and their star ratings on review sites. Business laptops requirements are different from consumer ones and so you have to make sure you have done your homework. Your laptop spend is going to be higher than a desktop but what you are gaining is portability. Many companies make two ranges of a particular line –one for home users and the other for businesses. The one option offers value for the price conscious buyer while the other is geared towards the more performance orientate buyer. Usually you would like your business laptop to be solid and reliable. It's essential that your business laptop is easy to repair so that you experience minimal downtime. These days many new laptops offer security features like smartcard or fingerprint readers.
The three leading companies' brands for basic business laptops include HP, Dell and Lenovo. We will also look at what Mac offers as well an Acer Chromebook option.
HP Business Laptop Options: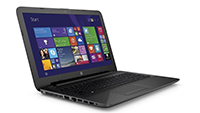 HP 255 G4: Entry level for a very limited budget -£300 and below. It has a 15.6-inch screen, 1366 x 768 pixels and a 2.2GHz quad-core AMD accelerated processing unit (APU). Its storage capability is 500GB HDD and RAM -4GB. It has AMD Radeon HD Graphics. CPU = 1.8. GHz AMD A6 -6310. It's extremely affordable and without any major bell and whistles.  Unfortunately, you are unable to upgrade or replace its' internal components.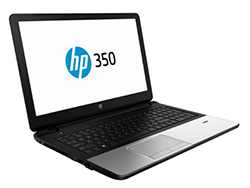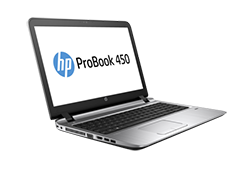 In the HP range there is also the HP ProBook 350 G2 as another entry level option with the HP ProBook 450 being a better system but which costs a little more.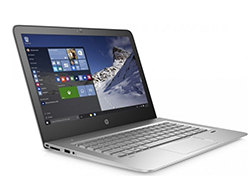 The HP Envy 13 goes for around £649 inc VAT and is very slim, light (1.3 kg), portable and powerful with a decent sized screen. (Intel Core i7-6500U processor with 8GB of DDR3 RAM, a 256GB SSD). Some highlights include Bang & Olufson stereo speakers with a tiled keyboard and number pad. It has a 13.3 matt screen in full-HD, three USB 3.0 ports, HDMI 1.4, a fingerprint scanner and SDXC slot. Capable of photo and video editing. Battery life can last up to 8 hours.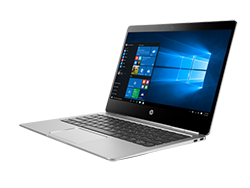 HP EliteBook Folio G1 is ultraportable starting at around £825.00 excl. VAT. CPU = 1.2-GHz Intel Core m7-6Y75 with RAM at 8GB. It has a 12.5-inch screen, 1920X 1080 pixels with a 7-hour battery life and comfy keyboard. For business use it has hardware encryption and facial recognition capabilities for enhanced security. It's highly durable and can withstand drops and dings as well as humidity. Very commuter friendly.
Dell Business Laptop Options: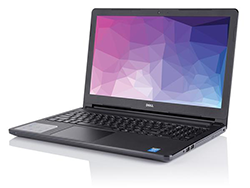 Dell Vostro 3558: Cheap but effective £ 269 (ex. VAT). 15.6- inch anti-glare screen with full HD resolution. Made for small businesses.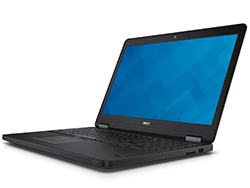 The Dell Latitude E5550 is stunning but expensive. With a Core i5-5200U, 4GB of memory, 500GB hard drive and Windows 7 Pro for £670.80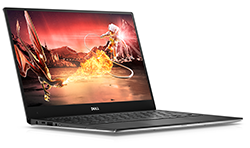 The star in the range is the Dell XPS 13 laptop as it is customisable to suit your business needs. It comes with Intel Core m5-6Y57 processor, 8GB of RAM, and a 256GB SSD. It also boasts a USB 3.0 port, two USB-C, Micro-HDMI, a microSD card slot and two optional Micro-SIM slots. It has a finger print scanner, weighs only 1,12kg's and has a 13.3 –inch screen with matt finish to its base half, the other side is cool aluminum that's very sturdy. You can ask for a carbon-fibre lid for an extra ten pounds. Its battery life is outstanding – 8 hours, 23 minutes. £799 incl. VAT. It's supposed to be the smallest laptop on the planet with the worlds first borderless InfinityEdge display. Its comes in Touch, Silver and Rose Gold options.
Lenovo Yoga 710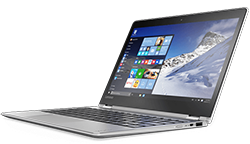 The favorite in the range is the Lenovo Yoga 710 coming in at around £549 inc VAT. Its ultraportable with a 360-degree hinge and a touchscreen option. The display is bright and glossy and great for outdoor use with an 11.6 inch-screen. (You can also get them with a 14-inch screen) It's covered in toughened glass. The Yoga 710 includes an Intel Core M3-6Y30 processor, 8GB of DDR3 RAM and a 128GB SSD. You also get a single USB 3.0 port plus micro HDMI but no microSD slot for storage expansion. It weighs only 1.06 kg's and runs on a 40Wh battery –which lasts for 9 hours 45 minutes! It's silent in use.
The more expensive Lenovo laptops with more features include Lenovo ThinkPad 13 (CPU
2.3-GHz Intel Core i3-6100U, RAM
4GB, Display Size & Resolution
13.3 inches, 1920 x 1080 pixels, Battery Life
9:13) Prices around £660.
Acer Small Business Laptop Option: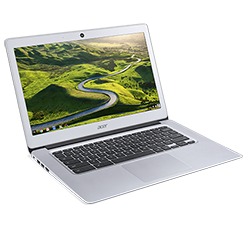 For the cheapest offering on the market we suggest the Acer Chromebook 14 for work. Starting price is £195 (Europe price as it's still to go on sale in UK). It's a cloud based laptop designed to meet the needs of enterprises, government and small businesses. It is powered by a 6th Generation Intel Core processor and is reported to have a 12-hour battery life. It's hardy with advanced waterproofing and drop-testing features. It weighs only 1.45kgs. It's 14-inch screen has a full HD resolution display which protects against glare. You have options of 2GB, 4GB or 8GB of RAM. You can also choose 16GB or 32GB of storage and has an option of up to 100GB free Google Drive online storage as well. It's perfect for video conferencing with its front-facing 720p webcam with 1280 x720 resolution. It has HD audio and video recording as well. It also has Bluetooth 4.2, an HMDI port and one USB 3.0 port for all your connectivity needs.
Apple Laptop Options: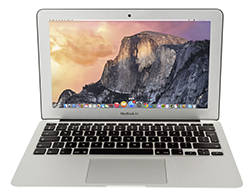 13-inch MacBook Air: It has the reputation as one of the best ultraportable laptops available. The price tag is £849 (with 128GB storage), £999 (with 256GB). Specs include: 1.6GHz dual-core Intel Core i5 processor, Turbo Boost up to 2.7GHz, Intel HD Graphics 6000, 8GB memory and 128GB PCIe-based flash storage. It also has a flash drive that is three times faster than Windows can deliver.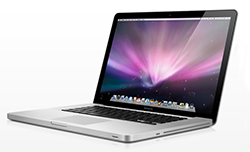 Apple MacBook Pro 15-inch: Its design is jaw dropping and has brilliant battery life. Its an award winning Apple product that should always be on the best business laptop shortlist. Its price tag starts at £899. (CPU: 2.6GHz Intel Core i7 quad-core. Graphics: Radeon Pro 450 with 2GB RAM. RAM: 16GB. Screen: 15.4-inch, 2880 x 1800 pixels. Storage: 256GB SSD) 
When you are looking for advice on all matters relating to your small business needs talk to us – Mustard IT. We're the UK's fastest growing IT consultancy and the go-to service for small businesses in the London area. Our expert technicians will be able to advise you on all software and hardware you might need for your business needs.
Call to speak to one of our technicians and find out how easy it is to get started with Mustard IT today.