If you are looking to establish a computer network for your small business, there's a few things you'll need to consider. Setting up small business computer networks can be a lot different to standard home-based or domestic networks. Business networks typically have a greater degree of complexity and security issues to think about.
Ultimately the question of what is the best computer network for you comes down your specific business and its needs. An IT support company may be the best port of call for the planning, design and implementation of your own networking system.
In this article we give an introduction to issues such as planning, design, hardware, and security for a business level computer network.
Before you start
Before we look at the types of technology you'll need to set up your small business computer network, you need to consider the most basic set up information.
How many devices do you expect to connect to your network regularly? Remember each staff member will have a computer, a personal device and maybe a work device, too. Don't forget your wireless printers and any other tech that connects to the internet.
Do you expect the business to grow over time? If you do, you need to prepare a strong network foundation that can grow with you and your business. Extra functionality could include VoIP, streaming, video conferencing and internal services.
Make installation and growth easy by purchasing switches and routers (more info below!) that draw power from the network wall jacks (instead of needing a separate power point). This will save electrical installation costs later on.
Always have a backup solution in case your network breaks down, and have a plan for when that happens.
What do I need for a small business computer network?
This depends primarily on how large you need your network to be. If you are a supporting a small business with similar demands to a home office, you may only require a domestic-style setup. If you intend to have a handful of employees and up connected, you'll need something a little more complex. Let's take a look at what you'll need to think about:
Design Considerations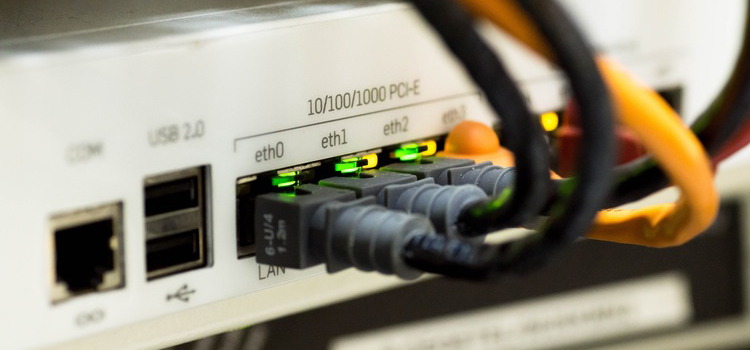 A small business may rely on one or two Local Area Networks (LAN) to support connectivity, each with its own network router. A LAN is made up of a collection of devices and computers that share a communication channel to a server. These are usually hard wired to provide consistently fast speeds, but wireless options are available. Hard wired connections (ethernet) are usually faster, more reliable and cheaper but are tethered in place. Wireless connections are far more flexible, and you have the option of extending wifi to customers or visiting contractors.
Access and Data Considerations
You'll need to determine how much you want or need to control your employee's access to the internet. A small business computer network may function well with basic content filtering (blocking certain websites or keyword searches). This can protect you from employees wasting time online and from other illegal or inappropriate activities.
A Virtual Private Network (VPN) helps to connect you to your remote employees (that work offsite). You can also set up methods of accessing your remote employee devices for administrative and tech support purposes.
Servers are places where your company wide data is stored. This could be email, instant messaging logs or other data. Unlike regular email, these cannot be accessed from a computer unless they are connected to your specific server. This sort of activity is done inside an 'intranet' – only those with authentication can access it.         You may also use a Network Attached Storage (NAS) device. It is essentially a hard drive that stores nominated data from every computer in your network. This can be very useful to protect yourself from theft or hardware issues, as your most recent data will be saved remotely.
Security Considerations
As above, it is wise to protect your network with layers of security. This could mean individual profiles or log-in methods which allow you to track behaviour and restrict access. Anti-virus software is always vital to protect against outside attacks.
If contractors or other people outside of your business need to access your data, you could establish a separate guest network. You can decide which information is made available to them and restrict access to anything sensitive. If you have customers that would benefit from free wifi access, set up another internet connection with no access to your business networks.
Hardware
In order to get the best results for your business, you'll need to determine what its needs are. Do your employees need to be away from the office? How often will they need to access company information when they're away? Do you have remote employees? Do you have desktop workstations for most staff that are used routinely? Figure out what you need, first.
Regardless of how mobile your workforce is, you will likely need a couple of computers and a printer linked together in the office space. You'll need the following information to make the best decision about how to do that.
How do I connect my computers so they are on the same network?
You will need to use switches and routers to connect.
A switch connects devices together so they can communicate. It's like a two-way radio – they can talk to each other, but they can't broadcast outside of that connection. Tie each computer together using a switch. When they are all connected, that's your network. This network can also include printers.
A router helps connect two or more networks, but most importantly – a router connects your network to the internet. This way, you don't need a separate internet connection for each computer. The router helps to provide protection from external threats. It also can be instructed to prioritise some computers over others. This can be very useful if a backup needs to be done from a computer while others are also connected – the backup can be prioritised, making sure your data is safe above all other activities.
Setting up your small business computer network can seem daunting at first. Just remember to think ahead to potential expansions, keep security as your first priority and be willing to ask for help if you need it.
About Mustard IT and Small Business Computer Networks
Mustard IT provide the design, build, installation and maintenance of business computer networks. Our trusted team are experienced able to explain complex issues to you in a language you'll understand. Contact us today to find out how we can help you.