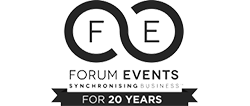 Mustard helps Forum plan for every eventuality
The
Challenge
Forum Events organises more than 30 forums and conferences per year, enabling senior UK executives to meet with suppliers and discuss new business solutions.
With IT and communications so key to the smooth operation of these events, the company relies heavily on the services of Mustard IT to prevent downtime and provide assistance, either remotely or onsite, when things go wrong.
The
Solution
But Mustard does more than merely respond to service calls. All year round, engineers proactively monitor Forum's network, advising on IT strategy and providing guidance to the organisation in its hardware and software purchasing decisions. As a result, Forum Events benefits from some leading edge solutions, including VMware, Win Server 2008R2, SQL, Exchange, Active Directory and a SAN.
Online backups also provide constant peace-of-mind that data is easily retrievable in the case of a disaster and remote working solutions are kept under constant review due to the importance of this feature when Forum employees are working away from the office at events.
Each week, a Mustard engineer attends site to ensure anti-virus and security systems are up-to-date and to carry out vital system administration such as adding new users and applying Windows patches. As soon as potential problems are identified, these issues are brought to the attention of Forum's Directors, enabling issues such as storage, connectivity and disaster recovery to be discussed and planned in a timely fashion.
Office Manager, Giulia Masucci, explained the benefits of a Scheduled IT Support Package from Mustard IT:

"In the pressure situation of a business environment the implications of PC malfunctions are expensive and frustrating. The friendly engineers at Mustard are always fast to react when we call on them, helping us to remain productive at all times – both in the office and remotely."